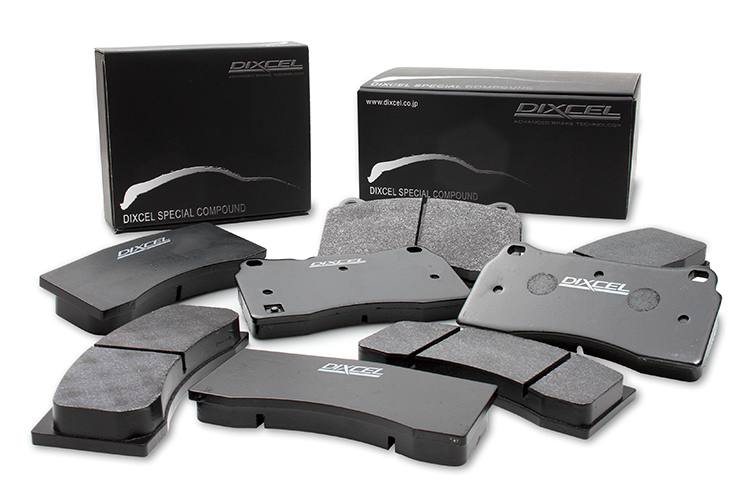 Specom-GT
Natural type
Japanese Cars
European & American Cars
High Controllability type / Newly developed for latest GT3/GT4 machines!
High-level control from braking start to finish (high response and natural release)
Predictable braking contributes to stable lap times
Excellent matching with ABS
Applicable Stages
ストリート
ワインディング(ノーマル)
ワインディング(ハード)
サーキット
ジムカーナ
ダートトライアル
ラリー
Friction Materials:

Carbon Semi Metal

Effective Temperature Range:

200~900℃

Brake dynamometer/Fade test 2nd section:

Initial bite ( μ ):0.51/Average μ:0.42~0.45
※The pads use special compound made for SUPER GT cars and formula cars which do not have brake boosters. Please be aware, if used on a car that is equipped with brake boosters, the brake pads may cause too much braking.
PLEASE NOTE : If used for normal street use,the pads may have increased brake dust & noise and decreased disc life.The same issues may occur during circuit-use if the pads are used under temperatures outside the effective temperature range.

Test data showing the superior performance of the Specom series.
■ µ Plot Shape
This plot represents transition of friction level during a braking application.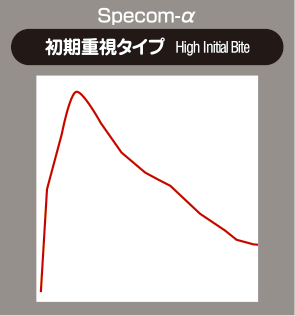 High initial bite type gives drivers reliale braking performance at the initial braking application. Easy to decelerate with small pedal pressure even on the long straight line. Good for cars w/o brake servo.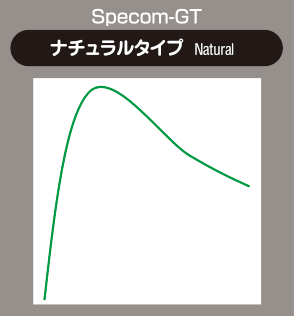 Most common type in three types. Moderate braking force at the initial braking application. Easy to controll at the end of the braking application. Applicable for any car/circuit.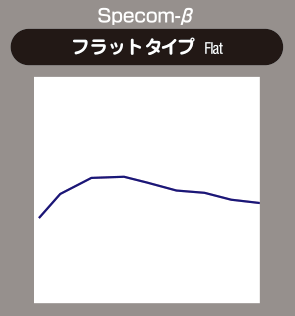 For users requiring great controllability. Least initial bite in three types. Flat friction level enables great controllability throughout the braking application. Most stable performance under continuous severe condition (continuous change of speed/temperature).
About the Specom Series
DIXCEL offers technical support to the teams racing in the SUPER GT, the pinnacle of Japanese GT car racing; also, series such as Super Taikyu and GR86/BRZ Cup. DIXCEL does not stop within Japan; DIXCEL is the official braking component partner of GT World Challenge Asia as well as the official brake pads and discs supplier for F4 UAE Championship and F3 Asian Championship. The Specom series brake pads were materialized with the technology and data which were acquired from participating in these races.

The word 'Specom' may give an unreliable feel to a certain age group. A special compound can give you a win or loss, nothing in between; you never knew until you used it. Over years, the DIXCEL Specom series has developed to help achieve stable results at various races. The unveiling of the new generation Specom series brake pads….. please experience for yourself the superb performance level of the Specom series.
About Bedding-in
Competition-use brake pads need to go through a process to be pre-heated before a race to exhibit its full potential. This process is called bedding-in.
《 Method of bedding-in 》
When using new pads/discs for the first time on a circuit, start with 50% braking for about 5 minutes and then go back to the pit once and take at least 5minutes interval. After that, repeat 70~80% braking for about 10 minutes. Pit in again and take an interval of about 10 minutes. After that, gradually increase from 80% to 100% braking, and the bedding-in of pads/discs on circuit is completed.
《 Comparisons of the method of recommended bedding-in 》
 
Low pressure
Medium to high pressure
High pressure
Cooling

DIXCEL

5 mins, then cooling of 5mins
10mins, then cooling of 10mins
80% to 100% pressure in 5mins
 
Brand A
150-80kph x 10 times (interval 600-800m)
 
180-60kph x 5 times
cooling x 3 minutes
Brand B
50% braking x 5 minutes
 
80-100% x 5 minutes
cooling x 2 minuites
Brand C
5 times
5 times
3 times
cooling x 20 minutes PARKING
Brand D
3 sec braking x 30 times with LOW to HIGH pressure. 800m interval between each braking)
 
Brand E
5times
5 times at slow to medium speed (interval 500m)
 
Brand F
 
145-40kph x 5 times
2-3 laps
 
Image of Racing Pad series